FOREMOST is a concept for a platform that prioritizes your pet's safety. It works as a preventative measure, that is driven by human judgement from personal networks.

Foremost aids the inclusion of unattended pets in emergency evacuations at the first instance of an emergency, such as a fire or flooding. It is centered on two pillars: relationships of trust in your close, personal circle of friends and neighbors, and the networks embedded within local communities.

By integrating dynamic mobile technologies with emergency detection, Foremost is a solution to offer a pet parent on-ground, first-incident support in emergencies.

Above: When emergency strikes, quickly identify who in your personal network is closest to your pet.

Above: Create custom profiles for each pet that can be shared with your trusted network - be it your partner, vetenarian, dog walker or neighbor.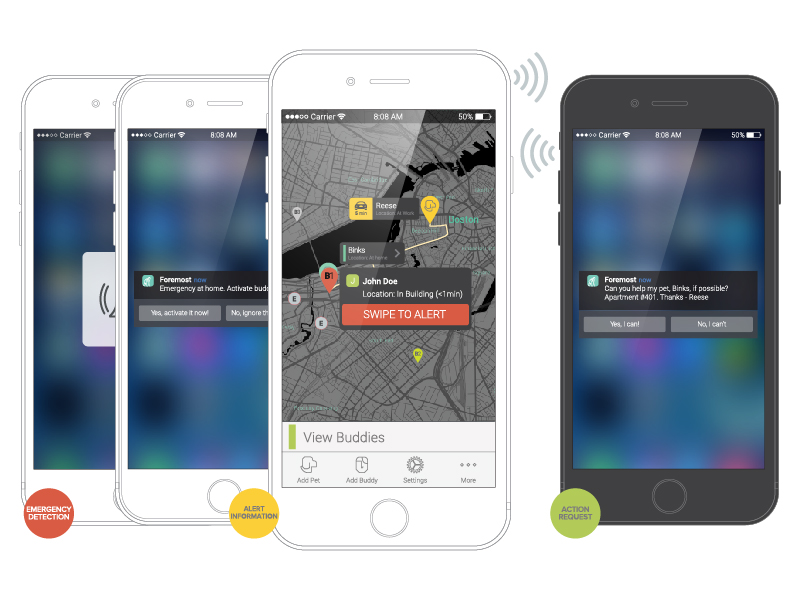 Above: After making sure that it isn't a false alarm (such as a pre-planned fire drill), activate your buddy network to ask for help. Quickly and mutually designate a responsible buddy for your pet to get him or her out of your home, and to safety.

Foremost is...

+ A preventative measure, based on human judgement
+ A first incident emergency support & action system
+ Driven by trust in personal networks
+ Scalable to other emergency scenarios
+ Aimed at increasing success rates of evacuation & drills
+ Aims to minimize risk to residents and response teams
+ Design to support wearable & home hardware


Foremost was also presented as a research poster at Northeastern University's RISE (Research, Innovation and Scholarship Expo) in March 2015.